Local Photographer Shares 6 Hikes to Plan this Summer
Looking for some fun activities to do this year with your family that doesn't break the family budget? Here are 6 picturesque hikes you can try that won't break the budget or your back! We've asked Kent Kowallis, a local photographer and outdoor enthusiast to give us his recommendations. His #1 Tip: Take your camera and use it!!!  You will definitely be inspired to plan your summer hike's right now! So grab your hiking boots, and let's go!
We love Kent's incredible ability to capture Mother Nature at her finest.  Kent and his wife Sheri love to hike, no matter what time of year it is. Kent has shared with us some of his favorite hikes and a few inspiring photos. You can check out Kent's amazing photographs at www.skycliff.net.
 Pack a lunch, put on some sunscreen, power off the tech and have a great hike!!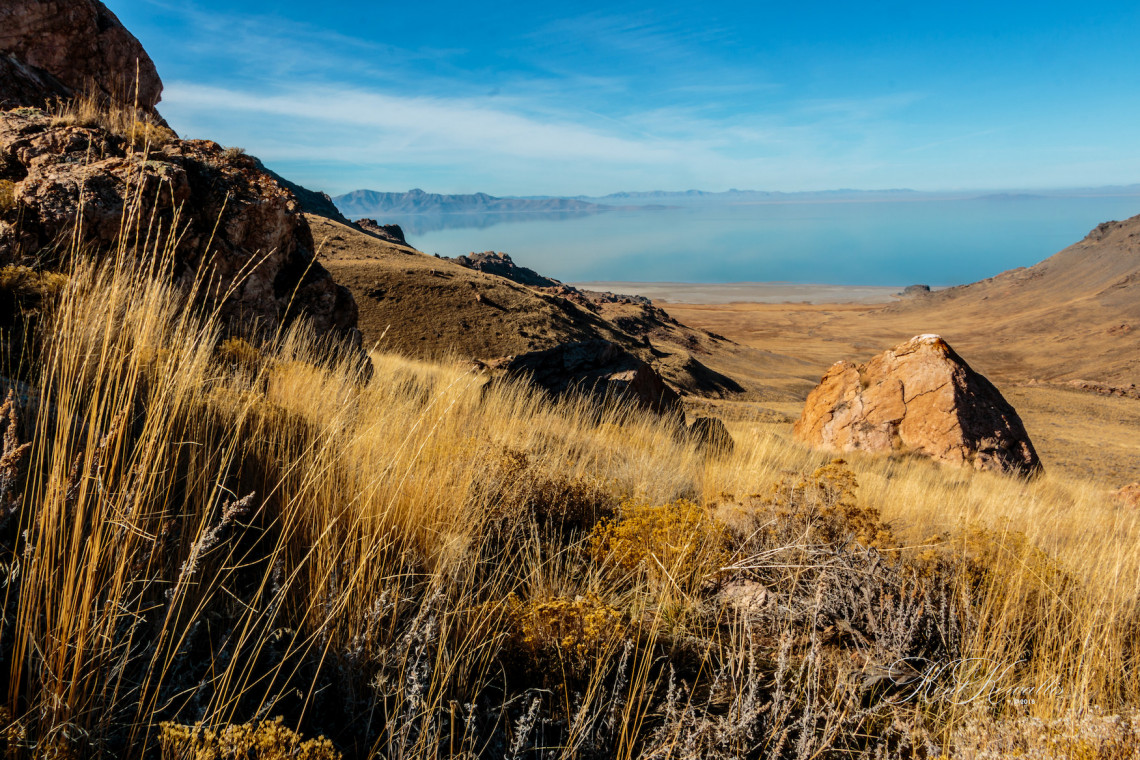 1. Antelope Island ( Frary Peak Trail)
Trailhead:  To reach the trailhead, drive to Antelope Island and then follow the Antelope Island Road south along the east shoreline.  Antelope Island is a Utah State Park.  You'll have to pay a small fee to enter the park.
GPS: 40.9936,-112.203
Difficulty: Moderate
Length:  7 miles round trip
Best time to hike this trail is in late March or early April or late fall.  This is a beautiful hike, but be aware the gnats can be bad if you hike this trail too late in the spring.  The summit of the peak offers beautiful panoramas of the Great Salt Lake, as well as vistas of the Wasatch Front.  While there are often Buffalo on this hike, they tend to stay at the lower levels.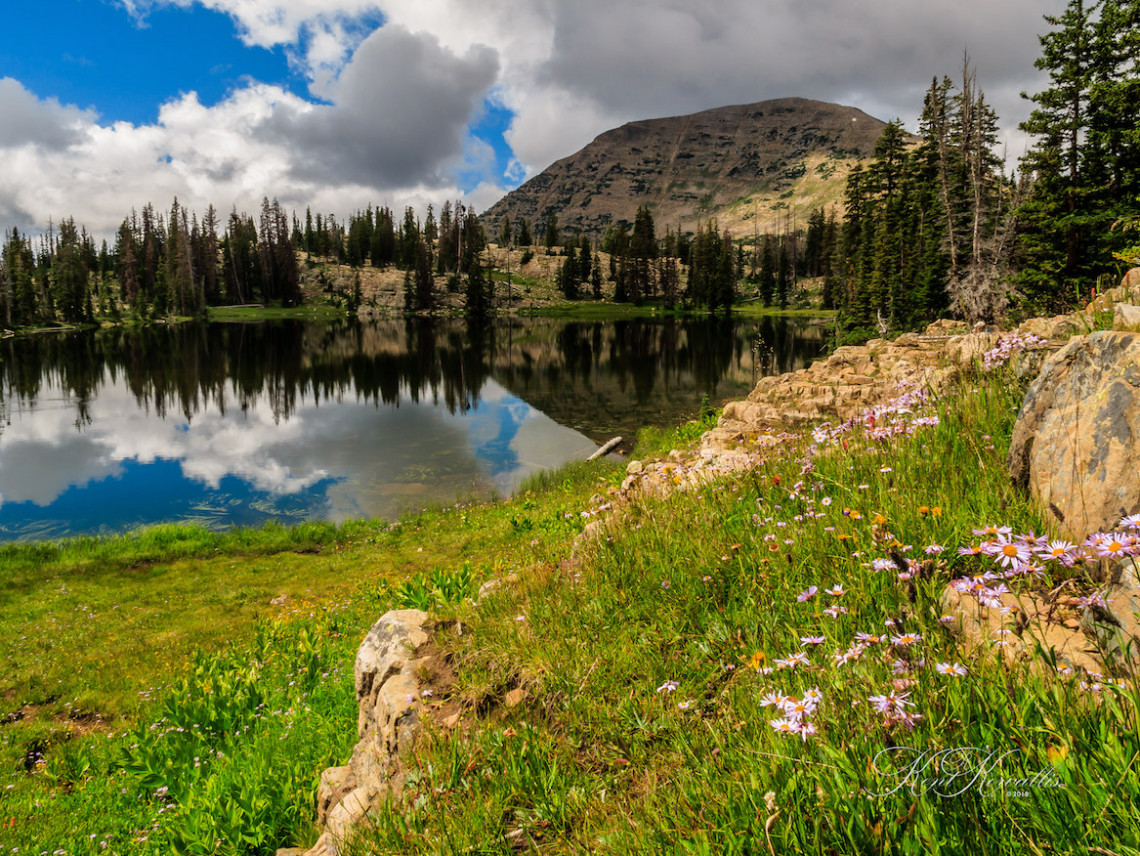 2. Crystal Lake to Clyde Lake Loop
Trailhead:  The Crystal Lake Trailhead is the starting point for many hiking adventures in the Uinta Mountains.  It is located near Trail Lake, just off Hwy 150, and provides access to several lakes that can be reached on short day hikes.  The trailhead also serves backpackers embarking on longer adventures.
This area offers excellent hiking, fishing, and camping opportunities and so it is very popular.  It is one of the most visited areas in the entire Unita Mountains.  Despite all of the visitors, there is a multitude of recreational opportunities and it's easy to get away from the crowds.
Trails here are interconnected with other trails and allow long hikes in several directions.  The route I prefer goes from Crystal Lake to Long Lake, cut off to the Twin Lakes, around Clyde Lake and then down past Watson Lake and Cliff Lake back to the trailhead.
GPS:  40.6809,-110.965
Difficulty:  Moderate
Length:  Approximately 6 miles
Best time to hike this area is from June to October depending on snowpack and weather.  If you are not familiar with this area make sure to take a map and GPS as there are many side lakes and trails, and people have gotten lost in this area.  As always when hiking in the Uintah's, go prepared for any weather.  Temperatures can swing drastically and cold summer rains are not uncommon.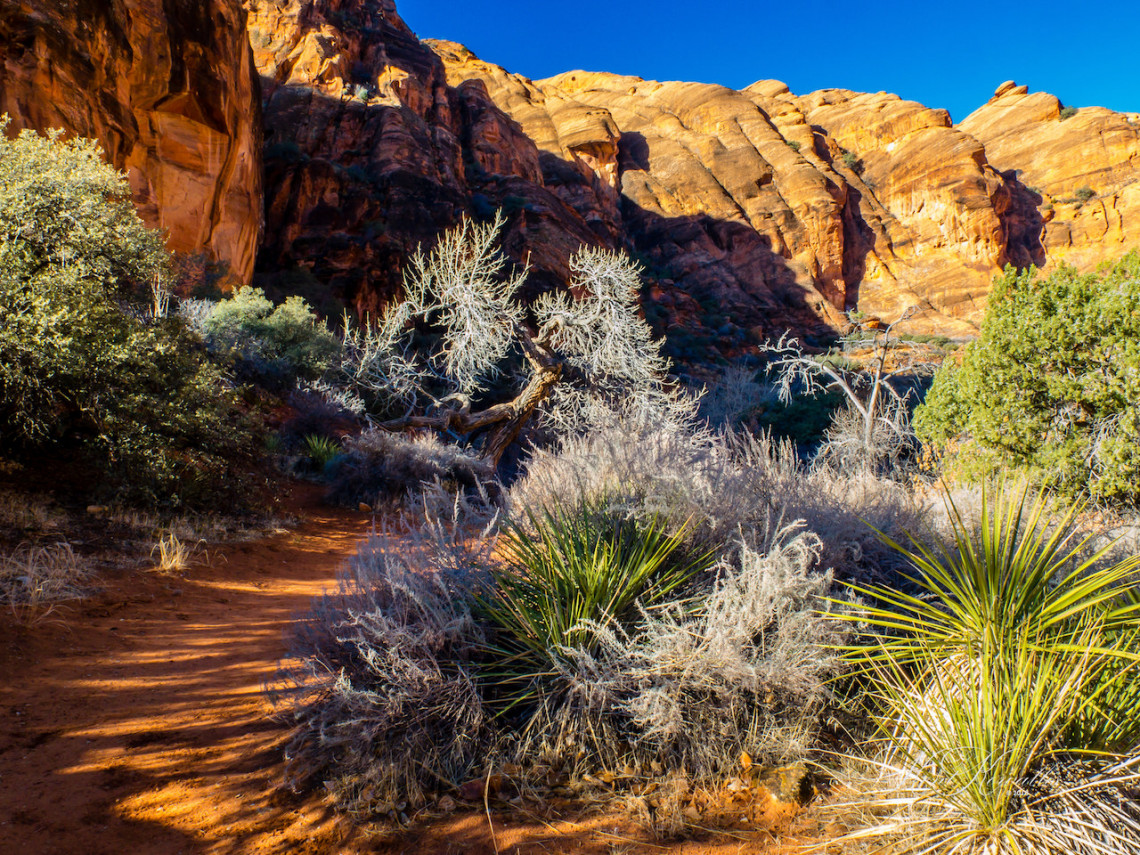 3. Red Reef Trail
Red Reef Trails is a 2.2 mile heavily trafficked, out and back trail located near Leeds, Utah that features a waterfall and is good for all skill levels.  The trail is primarily used for hiking, walking, nature trips, and birding and is best used from April until October.  Dogs are also able to use this trail but must be kept on a leash.
Trailhead:  From either north or south take the Leeds exits, turn right onto Old Highway 91.  Travel south 2 miles and turn right under the freeway.  Continue under two freeway tunnels ( tunnels restrict vehicle size to less than 12 feet in height and width) and follow the paved road for 1.3 miles into the campground.
GPS:  (37.2243,-113.4061)
Difficulty:  Easy
In the summer ( if water is flowing) expect to see many hikers jumping into either of the two pools.  If you want to join the fun wear your water shoes.  Near the trailhead, there are other trails that go to a few dinosaur tracks.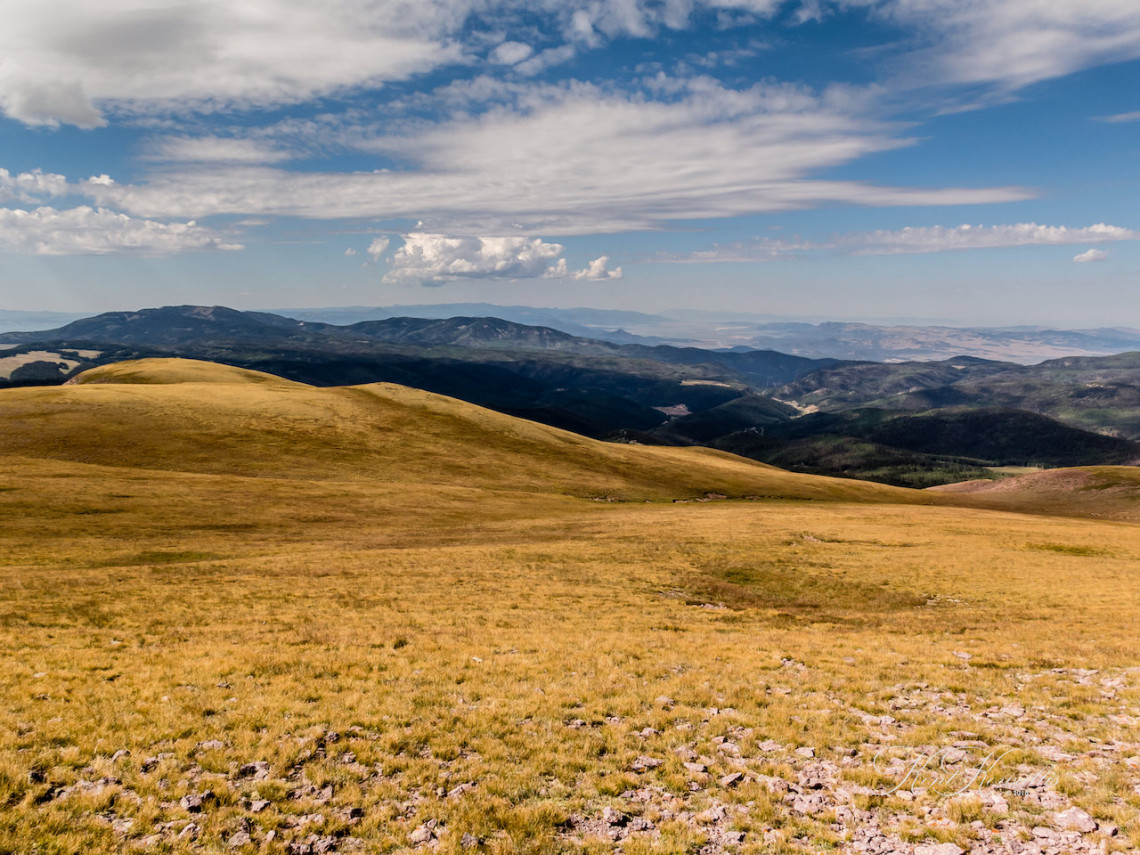 4. Delano Peak/Mount Holly
Trailhead:  Drive to Beaver on interstate I-15 and take either of the two exits and head into the center of town.  Look for state highway 153 and head east through a scenic canyon that winds for 16 miles to FS road 123, also signed as the Big John Flat road.  Not far from the mile 16 marker, look for a sign on the right side of the road directing you to "Big John Flat" road.  The road is to the left across from the sign, so take the dirt road heading slight uphill to the left.  Take this one and stay left at all junctions until you come to Big John Flat, an area where camping is allowed and a restroom facility has been built.  It is nearly 5 miles to the Big John Flat campground and restroom area.  Having the coordinates for the summit in your GPS will make this route easy to do.
Mount Holly has no official trail, but it is just slightly lower than Deloan Peak and virtually no traffic.
GPS:  I prefer to park at (38° 21' 24", 112° 23' 39")  where there is some shade and you can camp if you wish, and then hike up the ridge to intersect with the official trail.  There is a car parking spot (38.36650° N, 112.39555° W) for about 2 cars if you have 4 wheel drive.
Difficulty:  Trail is rated as moderate, but it is steep.
Length: For Delano Peak, it is approximately 5 Miles round trip, it starts at about 10,400 feet, and ends at 12,173 feet.
The best time to hike is any time the snow allows, which usually runs from June through October.  Flowers are at their peak in August, and mountain goats are often seen on the trail.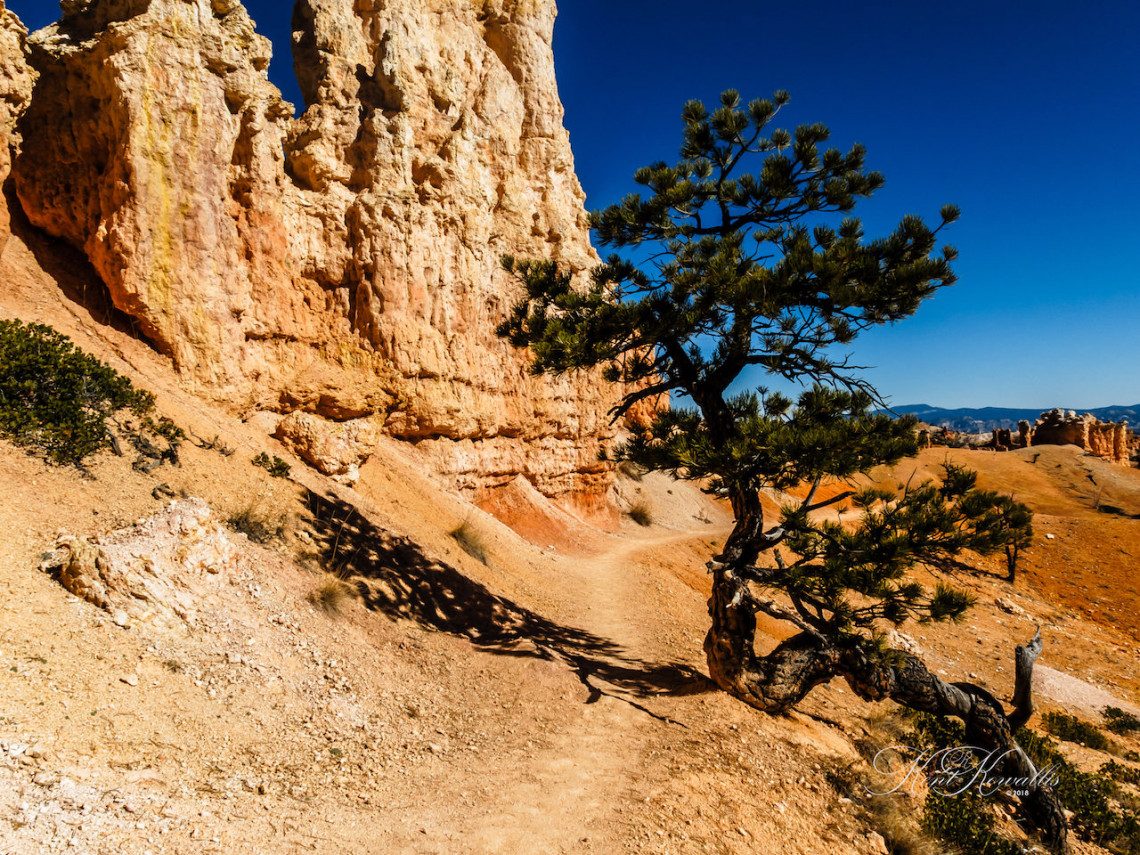 5. Bryce Canyon Fairyland Loop
There are many hikes in Bryce, and I'd guess everyone has their favorite.  One of mine is the Fairyland loop.  This is either a 6 or 8-mile hike depending on whether or not you hike part of the rim trail, or have pickups at both ends of the trail.  As typical of Bryce, it has all the hoodoos and unique formations Bryce is known for.  What I like about this hike, is that it is one of the less traveled hikes in the park because of the distance and the fact that without hiking part of the rim trail it doesn't start and end at the same place.
Difficulty: According to the park service, this is considered a "strenuous" hike, although I would rate it as "moderate".
Best time to hike any of the Bryce trails is early spring or late fall since the temperatures can get pretty warm any other time.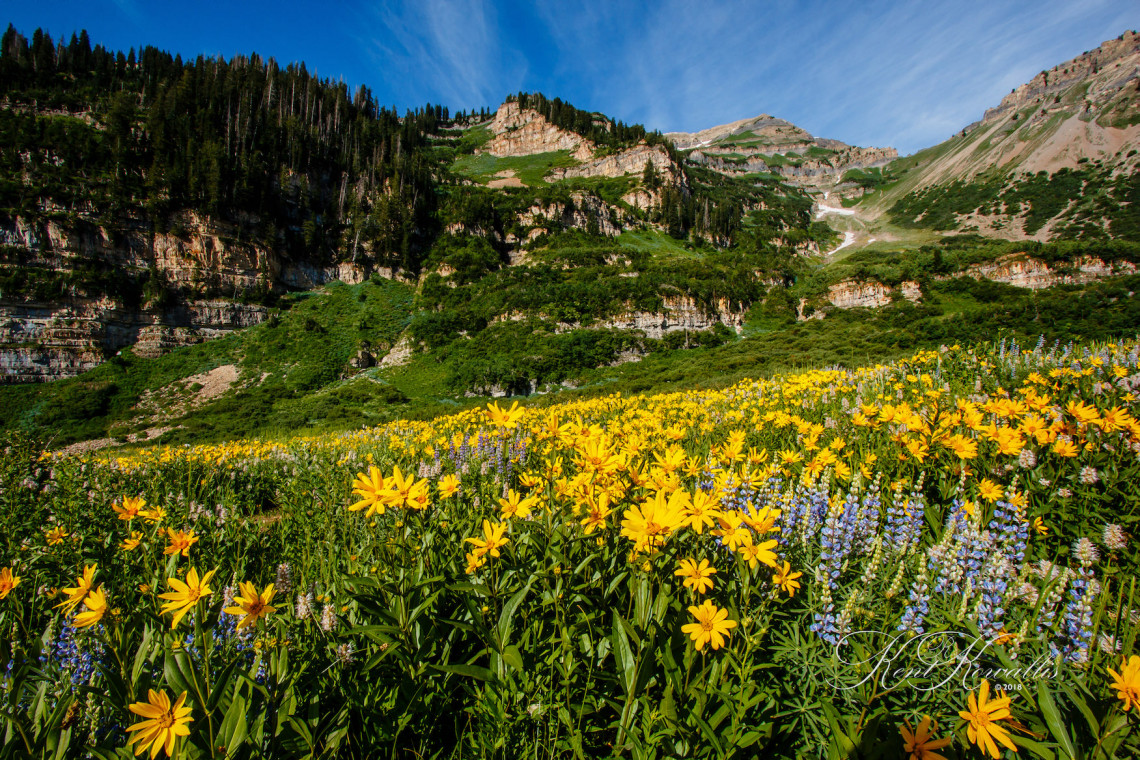 6. Timponeke Trail
Perhaps my favorite trail, this one is full of beauty, grandeur, and surprises depending on the time of year you hike this.
Trailhead: The trailhead is located up American Fork Canyon 8.2 miles from the mouth of the canyon(passing the Timpanogos Cave national monument area) until you come to the Timpooneke Campground on the right side of the road. The trailhead to the Timpooneke route is just beyond the campground area.
GPS: (40.3846, -111.636)
Trail Difficulty: Strenuous
In 2012, the parking area at the trailhead, located just beyond the campground was re-done and generally has enough parking for most days of the week. Saturday mornings during the summer often finds the parking lot filled by 5 a.m. so be aware of that. A Forest service style vault toilet is found also with an information kiosk just to its right. The trail takes off from the bathroom area and angles to the right. If you drop down, you are on the wrong trail. There is a small SAR booth and a sign in board on the correct trail.
In winter the route is high risk from avalanche danger, but May through October, you'll see Moose, Mountain Goats, and many other forms of wildlife as well as several waterfalls in early spring, and wildflowers in every variety!  The trail is 14+ miles round trip to the summit of Mt. Timpanogas, starting at an elevation of 7,360 feet. Total elevation gain is 4389 feet.
On this trail, hike as little or as far as you wish.  It's always beautiful.
Our Featured Photographer
Kent Kowallis is a self-taught photographer that has been actively involved in shooting in a variety of venues, and have honed his skills in shooting activities in difficult and challenging situations.
They have lived in Utah for 20+ years, and love this beautiful state and the many settings it has in which to capture images of nature as well as using those backgrounds to showcase families and individuals.
They reside in Cedar City, Utah.