6 Bizarre and Unique Things You Can See in Utah County
Utah County has a rich and sometimes unexpected history, and with that history comes unique sights that add to the character of "Happy Valley." Here are some of the most bizarre things you can find in Utah County.
1. A real liger.
In May 1948, Utah's Hogle Zoo welcomed a new cub to their population of exotic animals that quickly became the zoo's most notable member: Shasta. The daughter of Huey, a male lion, and Daisy, a female tiger, Shasta weighed 1 pound, 12 ounces. As the first liger born in America, Shasta drew crowds in droves to her cage. The famous Utah-native lived an incredible 24 years, six to fourteen years longer than most big cats, and she passed away on July 19, 1972.
A taxidermist stuffed Shasta, and the zoo continued to display the liger for another quarter century until 1997, when she was moved to the Monte L. Bean Life Science Museum at Brigham Young University. Visitors to BYU can still see Shasta today and learn about the liger's legacy.
2. A replica of Jerusalem sites amidst the sagebrush.
While not a replica of the entire Holy City, the Jerusalem set built by The Church of Jesus Christ of Latter-day Saints near Goshen, Utah, recreates many significant Christian sites from this biblical land. The set features a grove modeled after the Garden of Gethsemane as well as the Court of the Women, the Pool of Bethesda, and the inn where Mary and Joseph sought shelter. With Utah Lake at its borders and streams, rolling hills, vast plains, and cedar trees surrounding the town, the landscape of Goshen makes a good backdrop for a mini Jerusalem nestled in Utah County.

3. A piece of the Berlin Wall and meteorites embedded in a work of art.
Over 200 feet of undulating stained glass that depicts everything from the origins of man to Joan of Arc and a Walkman to Winnie the Pooh, the Roots of Knowledge window at Utah Valley University is a fascinating work of art that explores the history of humankind's quest for knowledge.
Made up of 60,000 pieces of glass, the window includes bits of meteorite, a fragment of the Berlin Wall, a 3,000-year-old coin, part of a dollar bill, fossils, petrified wood, coral, and countless precious stones. Roots of Knowledge took a team of more than 40 artists, 25 faculty members, and 350 students 12 years to create.
While the breadth, scope, and sheer content captured in this $4.5 million work of art is staggering, the smallest of details is equally as fascinating. You can visit the piece in person at the Utah Valley University Fulton Library or take a virtual tour at uvu.edu/rootsofknowledge. You can also download an interactive app for your visit.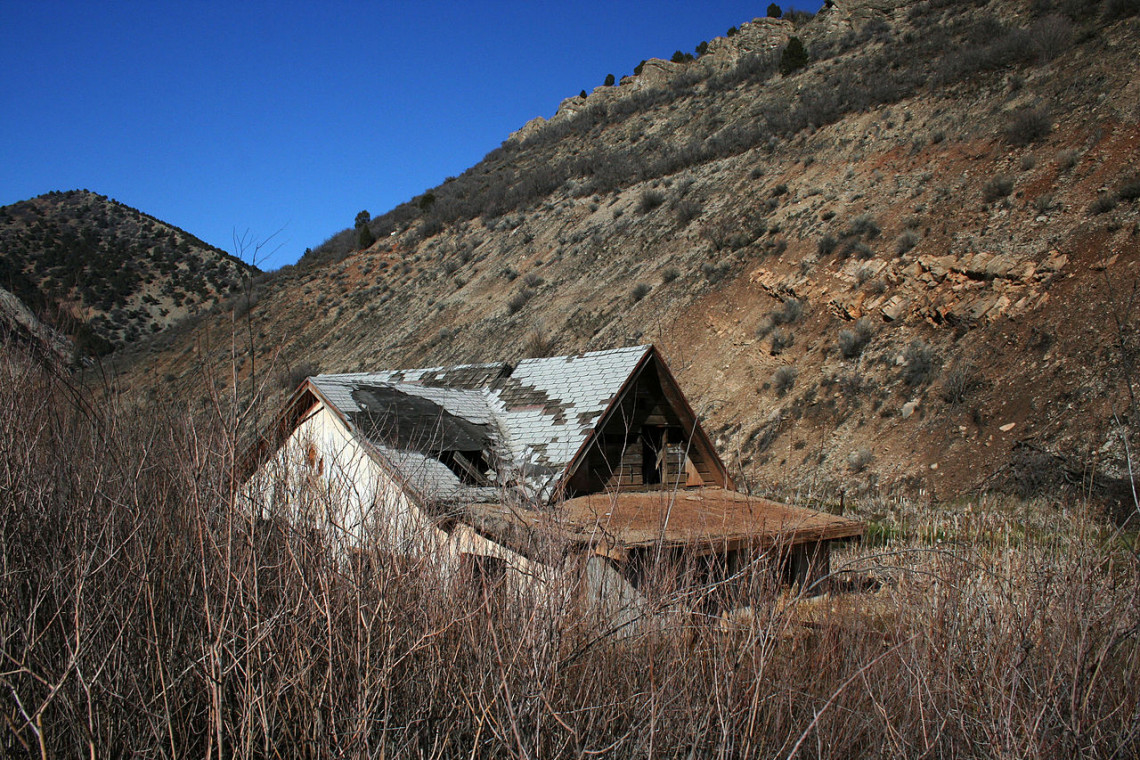 4. A ghost town submerged in water and an abandoned graveyard.
Utah County has several interesting ghost towns, including one that was submerged under water. In 1983, the town of Thistle, located up Spanish Fork Canyon, was evacuated and eventually destroyed after heavy rains and fast-melting spring snow turned the hills above the town into a mass of moving mud. The mud plugged the narrow canyon floor, creating a 220-foot-high wall and a lake that drowned the town. Though the water eventually drained and the state built a dam upstream of the town, Thistle has remained abandoned ever since.
Another fascinating Utah County ghost town rests high up American Fork Canyon, in a valley called Dutchman Flat. Once a silver mining town, Forest City hosted a sawmill, two general stores, hotels, and a saloon, but the town lasted less than a decade. In 1872, a diphtheria epidemic spread through the town after severe weather set in, and the dead were buried in a small cemetery known as Graveyard Flat. Later, the American Fork Railroad, which was supposed to provide transportation to and from the mine, was stopped short of the town due to engineering difficulties. Transportation costs for the mine rose too high to make operations profitable, and the town soon died off with the mine. You can still visit Thistle along with Graveyard Flat and find ruined houses and rusting mining equipment, the only remains of these abandoned towns.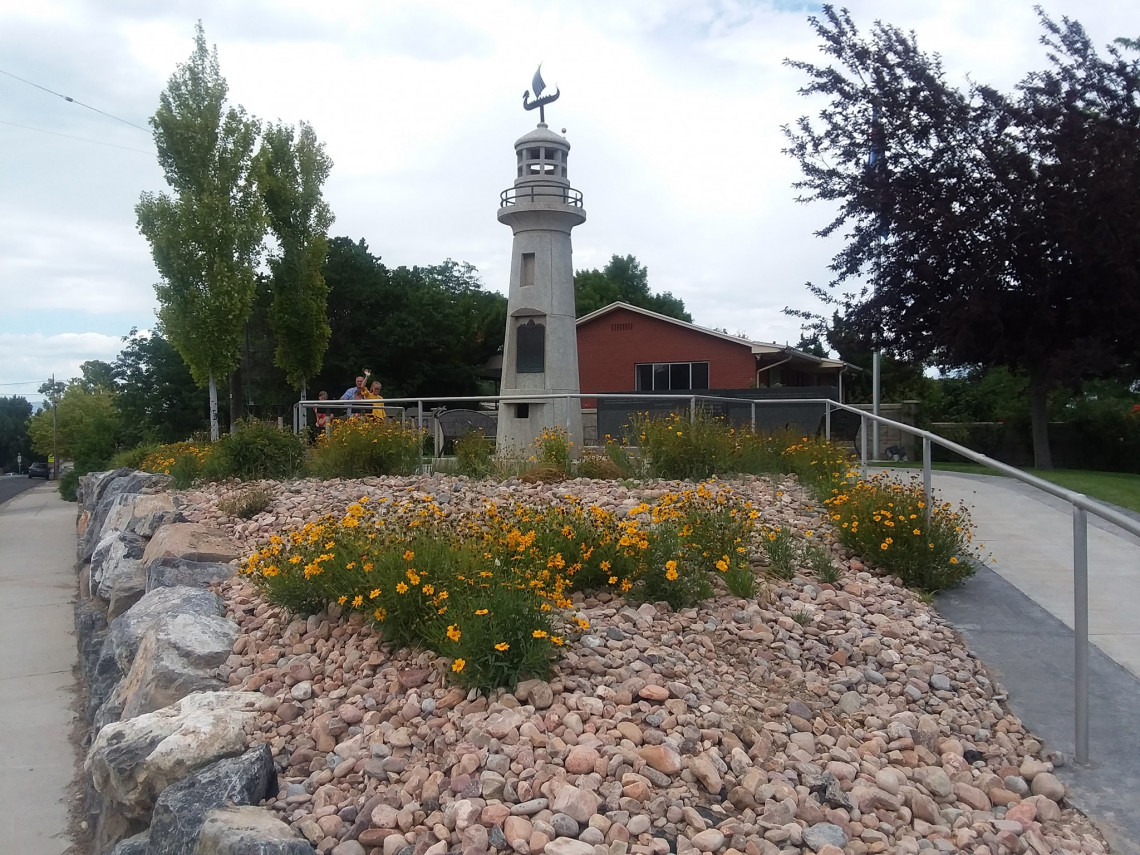 5. A Viking ship atop a lighthouse.
Did you know the first Icelandic immigrants to the United States settled in Utah? These Icelanders were converts to The Church of Jesus Christ of Latter-day Saints, and between 1855 and 1914, 410 Icelanders came to call Utah their home. Most of these new residents settled in Spanish Fork, making Spanish Fork the first permanent Icelandic settlement in the United States. In 1938, a replica of an Icelandic lighthouse, complete with a Viking ship atop the monument, was dedicated to commemorate the first Icelanders in the United States.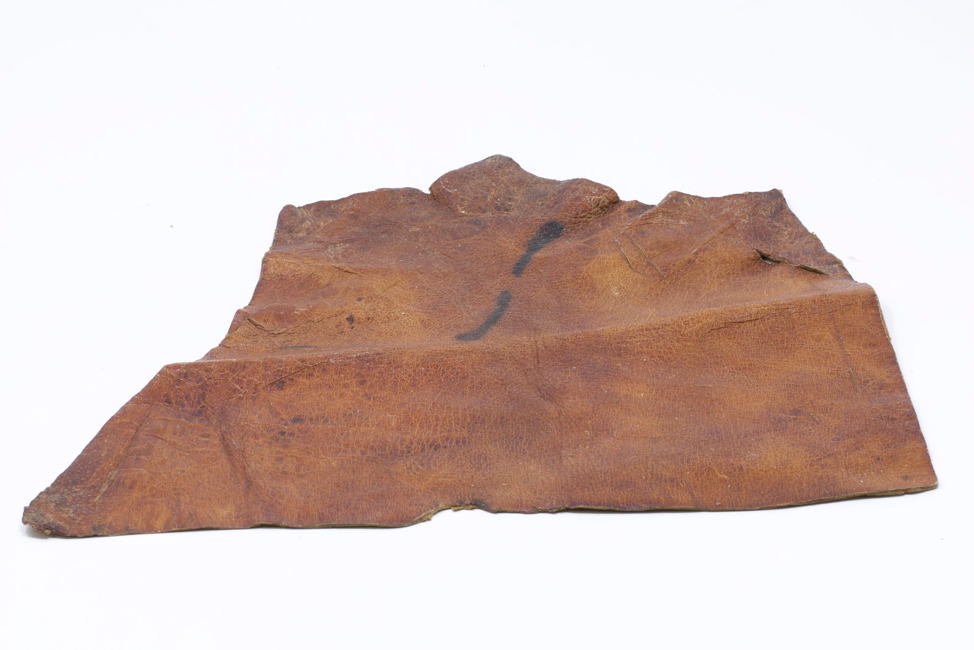 6. Human leather and a murder weapon.
On January 29, 1869, Chauncey W. Millard became the youngest person ever executed in Utah. Today, a portion of Millard's skin and his reputed murder weapon are on display at the Hutchings Museum in Lehi, Utah. Born into poverty around 1851, Millard worked in a poor house before becoming a Civil War bushwacker who "robbed and murdered Confederate and Union Soldiers alike," the Lehi Free Press reports. Before reaching Utah, Millard bragged of having killed five men.
When freight driver Champion Mayfield hired 18-year-old Millard and a man named Harlan P. Swett to help him drive wagons of potatoes and onions from Salt Lake City to White Pine County, Nevada, the resulting trip ended in tragedy. Millard shot and murdered Swett before turning his gun on Mayfield and emptying the last four rounds in the six-shooter. Mayfield was shot once in the hand but managed to scramble across a frozen Utah Lake to safety. On December 17, 1868, infamous lawmen Orrin Porter Rockwell and Henry Heath apprehended Millard, who was sentenced to death by firing squad for the murder.
Before his death, Millard sold his corpse to Doctor Don Carlos Roberts for a pound of candy. Millard was reportedly eating the candy when he was shot, immortalizing him as the "Candy Man." Doctor Roberts removed the skin from Millard's body and tanned it into human leather that he wrapped his surgical instruments in. Morbid though it may be, a portion of that skin and the reported six-shooter that Millard used to murder Swett can be seen at the Hutchings Museum.