A Sweet Shop Out of a Storybook: The Cookie Cottage in Mapleton, Utah
Locals and visitors traveling down Highway 89 in Mapleton, Utah, might see something unexpected near Harvest Park.
A bite-sized tower, looking like something out of a fairytale, sits nestled in the neighborhood. It's the Cookie Cottage, and the story behind this sweet shop is just as picturesque as its atmosphere. About the Cookie Cottage, founder Samantha Haney says, "This is my dream come true."
Since she was 3 years old, Samantha has loved baking. She learned the art while baking with her grandparents and mother and spent the next several decades perfecting her recipes.
"Most of the things that I create, they come from my grandpa or my grandma or my mom. They come from their recipes from back in the day, and I have learned to put a twist and a spin on it to make it my own," Samantha shares. "Most of the recipes I have been working on for about 25 to 30 years, some even my whole life."
Samantha didn't see her gift with sweets as anything more than a hobby until she volunteered to create treats for a fundraiser. After her baked goods sold out, Samantha decided to open a small business in her hometown of Romona, California. And the shop was small—tiny enough to fit on a median. There, Samantha continued to sell out her confectionary creations.
When Samantha and her husband, Eric, decided to move to Utah, they searched for a place to rebuild Samantha's business. That's when they discovered Mapleton, Utah.
"I love it here," Samantha says. "I visited about 3 years ago and absolutely fell in love with the area and the people, so I decided to set up shop here."
The Cookie Cottage opened in 2020, and since then, it has been filled with over 450 of Samantha's specialty treats and recipes.
If you read any reviews of the Cookie Cottage, you will quickly discover Samantha's love for the Mapleton community is mutual.
"What a delightful place to visit," Kimberly Allgood says. "The owner is one of the sweetest people I have ever met! And the treats that she bakes are absolutely delicious! What a fun business to have just inside our neighborhood, and one that I enjoy supporting!"
Jennifer Butler adds, "Fell in love with the cookie cottage this weekend. Once you have [Samantha's] cupcakes, cookies, bread, or whatever, life will never be the same. She is amazing and super sweet. I'm a new customer for life."
Marshall Lamm puts a poetic twist on his review, "Samantha is the Mozart of cookies, channeling deliciousness from heaven itself."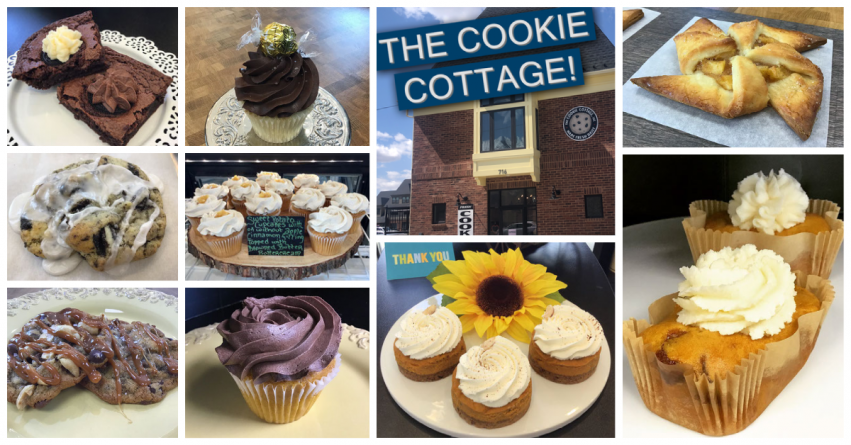 Whether you are looking for cookies, cakes, cake pops, fudge, brownies, popcorn balls, or sweetbreads, you can find it at the Cookie Cottage.
"The menu changes every day," Samantha says. "Everything is always fresh . . . and made from scratch." Samantha uses only the best ingredients, locally bought, with no preservatives.
Samantha's treats are a labor of love. She begins baking in her kitchen above the shop at 3 am Tuesday through Friday. And on Saturdays, Samantha holds cookie art classes to share her love of baking with the community.
To see Samantha's desserts and creative menus for yourself, check out the Cookie Cottage on Facebook and Instagram or stop by the tower at 716 S. 1600 W. in Mapleton.